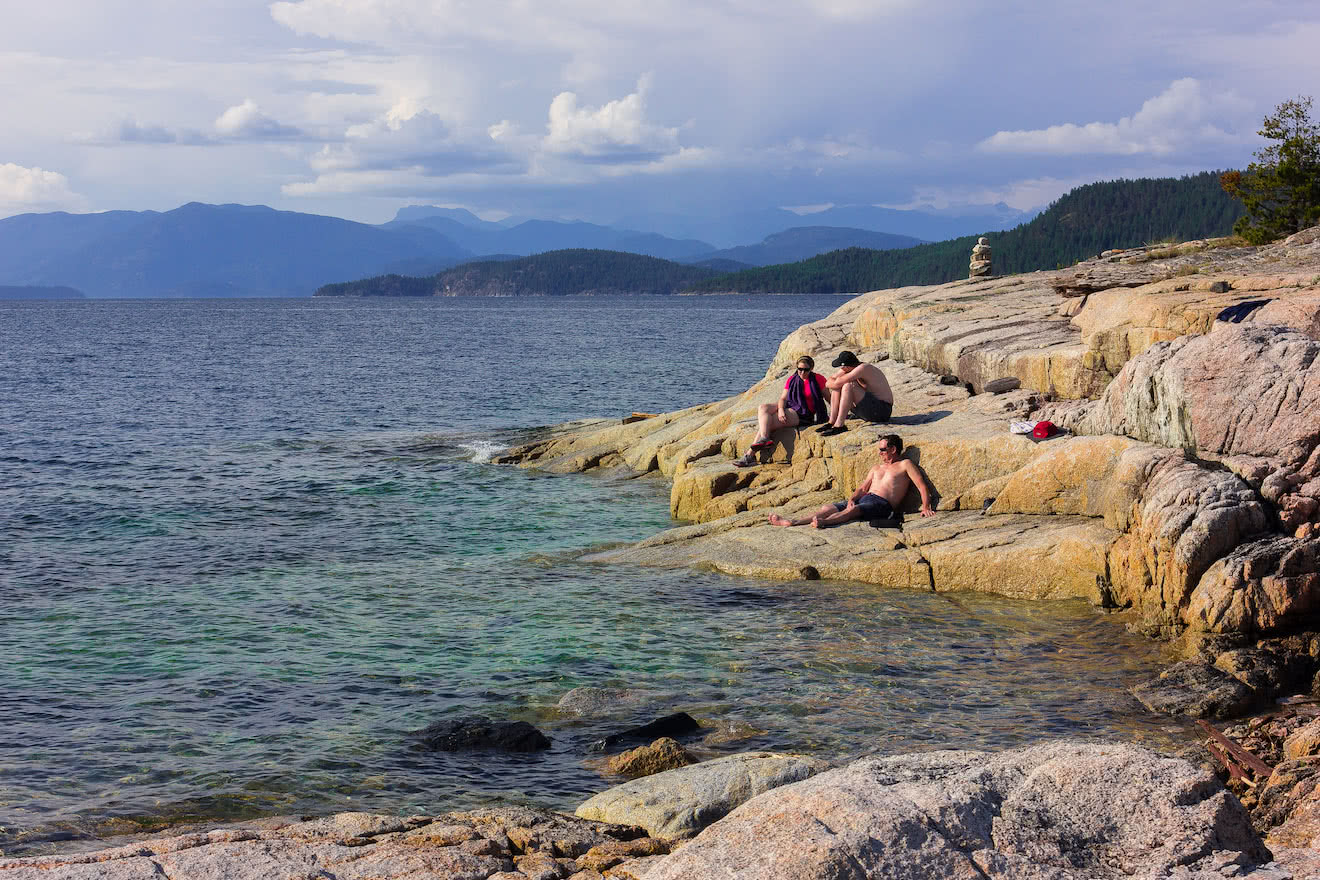 [This article was originally published on www.bcseakayak.com on June 5, 2017]
Desolation Sound is world famous for it's remarkably warm ocean temperatures, which routinely reach 22 degrees celsius (74 degrees Fahrenheit) during those long, hot summer days of July and August.
As great as cooling off in the ocean can be, however, we know that nothing quite beats a freshwater soak in a warm, clean lake to wash away the salt of a mid-summer multi-day kayaking adventure.
Check out these incredible freshwater lakes easily accessible from Desolation Sound, perfect for a quick dip or an entire day or rest and relaxation.
Unwin Lake
This one is famous – accessed from the pullout in Tenedos Bay, a mere 45 minute paddle from the Curme Islands – Unwin Lake is a popular and attractive day trip paddle from your base camp in the heart of Desolation Sound.
From the campsite in Tenedos Bay, follow the trail for 10 minutes through an ancient temperate rainforest amongst humongous trees, and then choose your path to the left or the right hand side of the lake and find yourself a secluded corner to eat a lazy lunch, swim in the sun, or jump from a shoreline cliff into the warm water below.
The trail from the bay to the lake itself is a wonderful experience, with a number of side paths that snake away from the main trail and bring you to the base of an ancient old-growth cedar or a secret corner alongside a babbling waterfall flowing from the lake into the bay below.
Camping nearby include the Curme Islands, Tends Bay itself, as well as Bold Head at the entrance to Tenedos Bay – all of which are located within Desolation Sound Marine park and include tent platforms, pit toilets, and basic backcountry kitchen and picnic areas.
Black Lake
Another centrally located lake, Black Lake is found at the head of Roscoe Bay on the south eastern corner of West Redonda Island, about 90 minutes paddle from the Curme Islands to the south.
Roscoe Bay itself is a beautiful, narrow fjord that is a popular anchorage in the summer months with sailboats and small yachts. At the head of the Bay is an easy landing at a small campsite with an obvious trail beside a rushing creek to the lake. The trail arcs off to the right hand side once you reach the lake, and splits off in a number of places to reveal secluded places for groups or couples to find some privacy and relax along the shoreline.
Black Lake is probably the warmest of the lakes in Desolation Sound, and another perfect day paddle from a base camp on the Curme Islands. A short portage with empty kayaks is also possible along the flat trail, opening up even more potential exploration and adventure!
Wednesday Lake
Little known to kayakers, but well known to summer hikers of the Sunshine Coast Trail, Wednesday Lake can be accessed via a 60 minute hike from Cochrane Bay in Malaspina Inlet, about 2 hours paddle north of our launch site in Penrose Bay.
Paddle into the small pullout in Cochrane Bay and follow the trail to where it intersects with the marked Sunshine Coast Trail, where you can take a left turn and follow the trail in a southerly direction up and down for half an hour to reach the lake – perfect for a refreshing swim after some physical activity!
Wednesday Lake is warm, clear, and remote – meaning that you will very likely have the entire place to yourselves while you are there, with the possible exception of the occasional through hiker on the trail.
The lake is most easily accessed as a day trip from the campsites at Grace Harbour or Hare Point, about 30 or 40 minutes paddle from each, and is often used by kayakers as a great way to stretch the legs and embrace a different form of exercise during a sea kayak expedition in Desolation Sound.
https://cabanadesolation.com/wp-content/uploads/2018/01/Lakes-in-Desolation-Sound.jpg
880
1320
Luke Raftl
https://cabanadesolation.com/wp-content/uploads/2018/01/logo3.png
Luke Raftl
2018-01-05 14:43:05
2019-08-12 11:20:28
Top 3 Freshwater Lakes in Desolation Sound