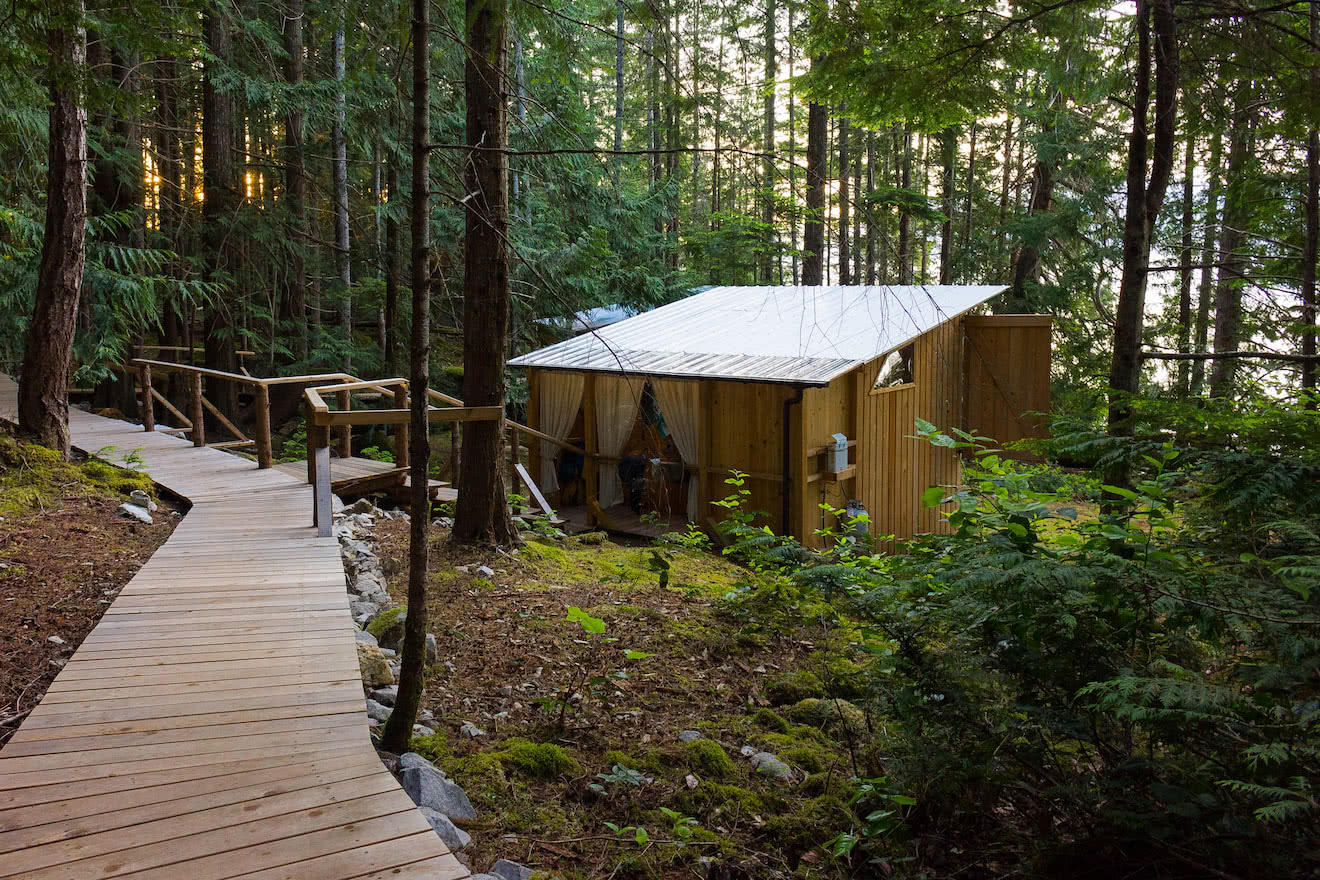 We're always looking for ways to enhance our guest's experience at Cabana Desolation Eco Resort – from tweaking the menu to include more local ingredients to installing new fireplaces for those chilly shoulder-season evenings – and 2018 will be no exception with many small and large updates in store.
One major addition for 2018 that we can for sure confirm this early in the off-season is the addition of our fifth and final guest cabana at the end of the boardwalk, which will bring our total capacity to a round and even ten guests (12 at a pinch) from next year and beyond.
Like all our cabanas, this new addition will be nestled in the rainforest with incredible ocean views out the front facing windows, and completely handcrafted from locally milled cedar and fir, creating the same rich, earthy feeling as our other accommodations. 
The new – and exciting – detail of this new cabana? This final structure will be a 'solo-cabana' – or perhaps a 'singles cabana', bonus points for anyone that can help us with a name – designed specifically with the solo-traveler in mind.
Effectively a regular double cabana split in two, both sides of the cabana will have a double bed and their own private shower and sink, and will allow those solo travellers – or indeed friends travelling together – the opportunity to enjoy the privacy and luxury of their own space.
Construction has already begun – and it's all hands on deck before the Christmas period to get the shell of the cabana up before the cold really sets in. Adam, Dan and Jan – owner, our cabana cook and one of our guides in year's past – are leading the construction efforts and proving that we're a multi-talented bunch up here in Desolation Sound!
Of course, with availability for only two solo guests in this new cabana, availability will be subject to demand, and there have already been bookings for this new cabana in 2018 – so get in quick to confirm your spot for next summer before someone else beats you to it!
If you are a solo traveler or searching for more privacy when traveling with friends and the solo cabana is booked for the dates you are intending to stay, you can of course still stay in a double cabana as an individual for a surcharge. Details are on our website.
———
To check availability and book your 2018 Cabana Desolation Eco Resort vacation, click here.
https://cabanadesolation.com/wp-content/uploads/2018/01/Cedar-Boardwalk-Linking-Cabanas-at-the-Resort.jpg
880
1320
Luke Raftl
https://cabanadesolation.com/wp-content/uploads/2018/01/logo3.png
Luke Raftl
2018-01-05 15:34:56
2019-02-14 13:32:17
What's New for Cabana Desolation Eco Resort in 2018?